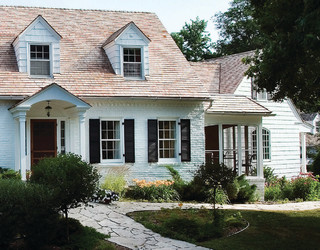 When remodeling your home it's better to think long term rather than focusing on what's the hottest style. Styles change faster than you can blink an eye, but reliable, sustainable materials can improve the look and feel of your house AND increase the value of your home.  There are many green home improvements you can make with environmentally sound materials.
It takes careful consideration to figure out what eco-friendly materials will suit your lifestyle and your home. Not every green material will be a fit. You need to evaluate what needs to be replaced, what materials are available and which ones will meet your needs for those upgrades.
Green homes are not necessarily ultra-modern. You can reduce your carbon footprint with these ideas knowing they won't be out of style in a year or two. Here's a list of ideas to get you started.
Low or No VOC Paint for A Green Improvement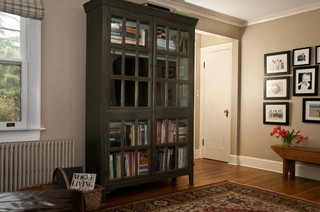 Painting a room is a basic project, and one that most people can take on without the help of a professional painter. They can also make a dramatic change to the look of a room. Consider low or no VOC paint if just the thought of painting gives you a headache. 
Off-gassing means chemicals in the paint are released as gases into the air while the paint cures. Traditional latex paint can off-gas for weeks. When you encounter that "new paint smell" you're smelling the chemicals that were once in the paint. The EPA says these gases are hazardous.
As their names imply, low VOC will off-gas less, and no VOC paint should not off-gas at all which means that people who have only painted during warm weather, can now paint year round. Most major brands of paint have low and no VOC choices. There are no real cons to eco-friendly paint, as durability and color options are comparable with traditional latex.
Reclaimed and Recycled Materials for Green Home Improvements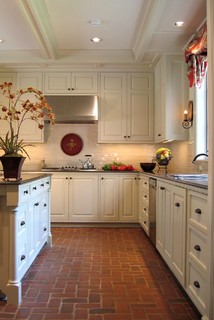 When it comes to home improvement ideas, recycled materials are easy to come by, see our Pinterest Board on using recycled materials at home. 
Recycled home materials are everywhere and sometimes they can cost a pretty penny, but the upside is minimizing what's dumped in landfills.
You can find carpeting with recycled nylon fibers from old soda bottles

Countertops fabricated from bits of broken glass

Brick veneer flooring is made by slicing old bricks from a demolition project lengthwise and trimming them for shape  (they're installed as you would tile) 
Reclaimed items are a bit different, although the two terms are sometimes used interchangeably. Reclaimed flooring, for example, might be wood planks or tile from a demo project and old barn wood is extremely popular. The materials are cleaned and prepped for reuse in your home. Reclaimed materials can be bit pricier, depending on what the items are and where you find them. 
Reclaimed cabinets from one kitchen can be stripped, refinished, and installed again somewhere else. Reclaimed materials can be very costly, such as a beautiful old wood floor, or downright cheap, such as a sink from a flea market or thrift store. One caveat: Be sure the item is suitable for modern building codes. An old light fixture spotted at a flea market might require rewiring before it meets code.
Bamboo and Cork Offer Green Flooring Options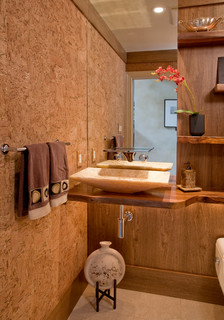 With Bamboo, deforesation isn't an issue because it grows so much faster than wood. Bamboo is used in many applications where wood used to be standard. Flooring, countertops, and cabinets are three major ones.
Harvesting bamboo doesn't leave the "forest" bare, as some grasses can grow as much as 30 feet in a single year. It's thinner than a plank of wood, so bamboo is often used as a veneer over a wood composite backing for floors and other applications
Cork is another product that doesn't lead to deforestation. Best used on floors and sometimes walls, this material is wood, but the tree doesn't need to be cut down to harvest it. The cork you're familiar with is actually the bark of the tree, which replenishes itself naturally after being trimmed off. Cork is safe for bathrooms, too.
Colors are limited, both with bamboo and cork. Bamboo is often found in a natural blonde color or a deep reddish brown. The dark tone is not a stain, but a reaction to heat processing. Cork can be stained with wood stains, but the color might be uneven.
The durability of bamboo and cork is less than with hardwood. You can't refinish either of them, as the surface material is thin.
These are only a few of the many eco-friendly home improvement ideas out there. The key is looking at the big picture, and not just making a choice because an item is friendlier to the Earth.
Be smart about home improvement ideas that are really friendly. Replacing carpet with recycled carpet tiles still sends your old carpet to the landfill. And even the most ultra-efficient appliances might look dated soon, once the next trend after stainless steel emerges.
Being more Earth friendly benefits everyone.