It's time to organize the attic, and what better way to get some exercise on a cold winter day. An organized attic can save you time when searching for things, and also save you money as too often we'll buy a duplicate of what we own because we can't find it.  So why not take time to organize things now and save yourself headaches later. 
Start Organizing The Attic Today
There's no better time to start than right now. Start by sorting through the stored items and make three piles, keep, toss and donate. Keep the important items, but, if you can't remember the last time you used something, it might be time to toss it or donate it.
Starting with a smaller pile makes it easier to organize and makes space for new items that need a home.
Organizing The Attic's Layout
Grate-style attic flooring panels are one way to organize your attic and create walking space. These square panels are designed to fit between the joists and interlock at the edges and installation is a snap, no contractor needed. Sheets of 3/4-inch plywood screwed down to the joists are a more traditional solution for attic flooring, just make sure your attic entry is large enough to accommodate a full sheet of plywood.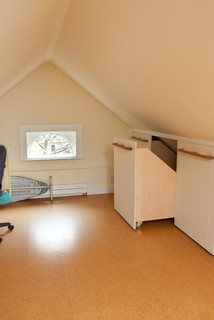 Once you have the flooring set, it's time to think about storage units. You can keep more of the floor space clear and protect fragile items by placing boxes on shelves instead of one on top of the other.  Build basic shelf units from ordinary lumber, bring in prefabricated shelves, or go all out and install cabinetry with built-in shelves and drawers.
Are you one of the millions of homeowners with a sloped ceiling in your attic? Did you know they make sloped storage bins that will fit into the eaves to help you keep the attic organized? Some are built-in, pullout drawers that reduce your need for boxes or plastic containers.
Air filters installed in attic vents can lower dust an pollen (learn more about air filters). Still, if you are looking to store clothing in your attic, you might want to consider finishing at least part of the attic with drywall and a ceiling to protect the fibers.
Make sure there is adequate lighting. This will increase safety and sanity. You won't spend a minute longer than necessary searching in sub-zero temps or unbearable summer heat.
Organizing The Attic
Grouping the contents of your attic by use or season will make it easier to find what you need when you need it. Think about the items your are storing and how often you use them.
Hang out of season clothes on a hanging bar. This clears the floor of the attic for boxed shoes and seasonal accessories. 
Holiday items should be kept together. 
Heirloom items should be stored in sturdy boxes or plastic tubs, labeled and placed in low traffic areas.
Keeping the Attic Organized
Here are a few tips to protect your hard work and keep the attic organized.
Clean as you go. Before relegating something to the attic make sure it is something you really need to keep.
Respect the structure you set up. Take the time to return items to their original location.
Attics collect lots of bugs, dust an pollen. Add dusting and vacuuming your attic to your list of seasonal chores.
Keeping a large trash can in the attic gives you a place to toss what you don't want to keep, and you can deal with it later.
Adding a table and chair gives you a flat surface for packing away new things and sorting through boxes.
It's easy to ignore the attic, once the door is closed, you don't have to think about the mess that lurks behind. That is until you open the door again. Save your self time and hassle by organizing your attic now.
Ready to organize the attic?
What are your best storage ideas?